Moderator: RichardW
CitroJim

A very naughty boy
Posts: 42198
Joined: 30 Apr 2005, 23:33
x 1252
---
Skull

Donor 2020
Posts: 687
Joined: 02 Aug 2013, 13:35
x 45
A milestone that might not have been achieved without FrenchCarForum

---
Online

myglaren

Forum Admin Team
Posts: 18231
Joined: 02 Mar 2008, 14:30
x 1047
---
CitroJim

A very naughty boy
Posts: 42198
Joined: 30 Apr 2005, 23:33
x 1252
Magic
---
djadams

Donor 2020
Posts: 68
Joined: 07 Oct 2012, 16:16
x 3
Good work! Just read through this thread with interest having not spotted it before...
Have you got your boosting woes sorted? The wastegate arm on a TCT shouldn't move on engine start, it's held fully shut by spring force and opened by boost pressure, moderated by the ECU controlled electrovalve. On vacuum controlled diesel turbos, the vacuum shuts the wastegate and the spring opens it (so they default open and close once vacuum builds after engine start).

If your turbo is not providing boost there's a few possibilities, one is that the electrovalve is faulty and is letting boost pressure through to open the wastegate at too low a boost pressure. Another is a weak spring in the actuator allowing the exhaust pressure to blow the wastegate open early. On top of those you've got the usual boost leaks and things, and failing that, another thing to check for would be a damaged exhaust system with a partial blockage in it (melted catalyst, collapsed silencer, that kind of thing)

Have you fitted a gauge to see what boost you're getting at full pedal through the engine speed range? The TCT doesn't run much boost (it's only a little turbo) but it should come up at reasonably low speed then actually reduce at higher revs if memory serves...
---
Skull

Donor 2020
Posts: 687
Joined: 02 Aug 2013, 13:35
x 45
djadams
Yes Thanks sorted now ....this was my problem
Well after finally relenting I have bought a solid pulley (couldn't find one anywhere and also appealed on other sites).
The difference between the two is about 25 degrees and comparing the two, looks to have been running too advanced.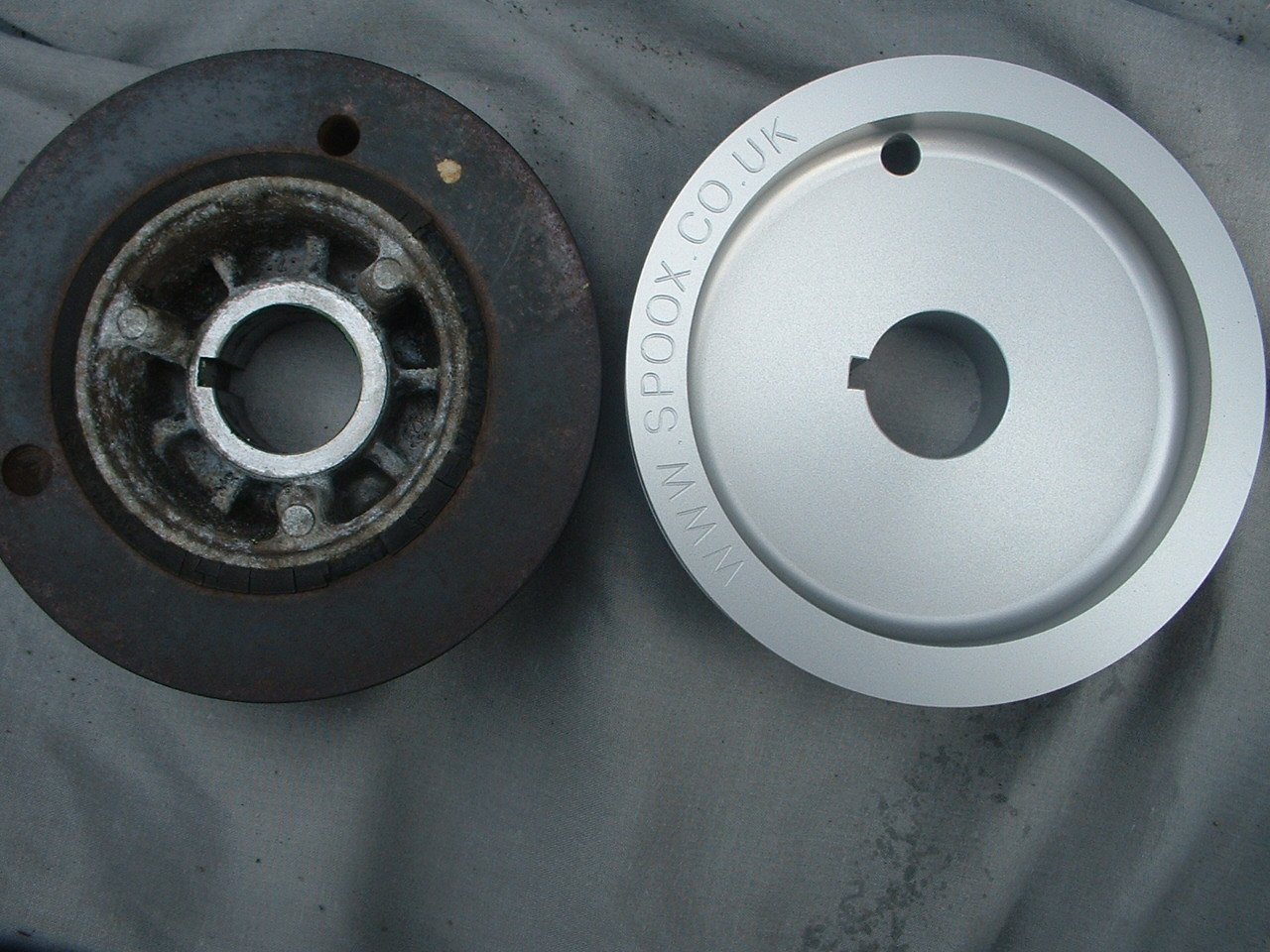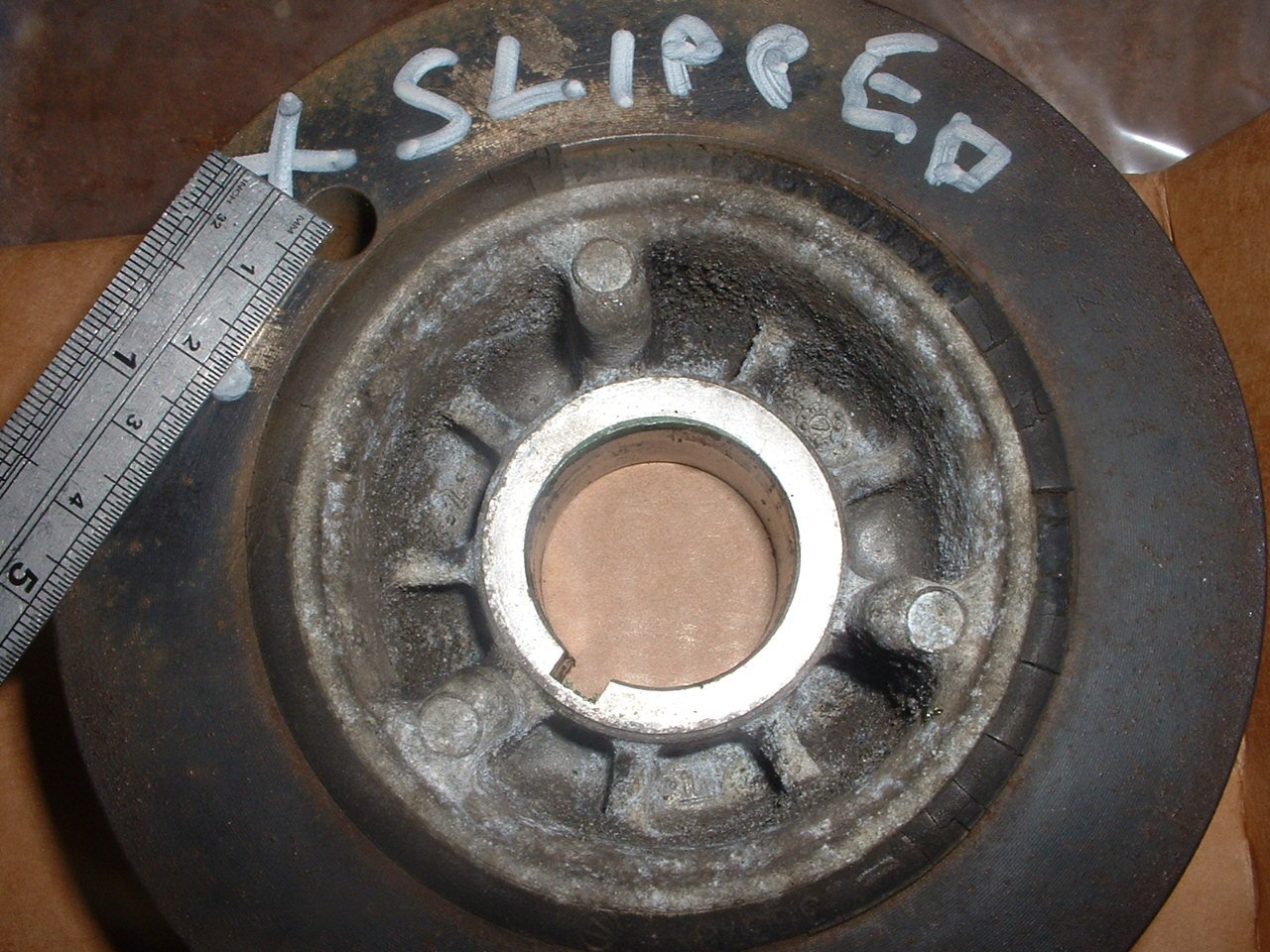 Hoping to get it all back together tomorrow and see how the engine sounds ...
I'm guessing I've been lucky not to damage the engine and hoping to get my boost back .....
[/quote]
So when I renewed the timing belt I reset the timing because it
looked
out but there was error in the timing pulley which sent me off on a wild goose chase, finally bought a solid pulley as above and all sorted

---
CitroJim

A very naughty boy
Posts: 42198
Joined: 30 Apr 2005, 23:33
x 1252
Good to see solid pulleys are now available

It's normal that the timing hole slips on the OE duel mass pulley and they should never be trusted

I still have here a solid pulley from a 205 engine I use only for timing when swapping a cambelt. It can't be used for running as it's not designed to run with a 6PK auxiliary belt...
The 2.0TCT is reputed to be a 'non-interference' engine so could in theory tolerate a massive timing error but I'd hate to put it to the test!
If yours is/has been running well then the timing won't be far out...
---
Skull

Donor 2020
Posts: 687
Joined: 02 Aug 2013, 13:35
x 45
Cheers
Jim
it really was your post that convinced me to try a solid pulley, finding one was another problem.
WWW.SPOOX.CO.UK
supplied one that weighs 1Ib 3oz (old pulley 3Ib 4oz) (£92.94).
Your old 205 solid pulley would have been ideal - worth hiring that out to those in need

---
djadams

Donor 2020
Posts: 68
Joined: 07 Oct 2012, 16:16
x 3
Ah yes... Wow! When I replaced my cam belt, my TV damper had slipped just like yours, rendering the timing hole utterly useless (as diagnosed for me at the time by CitroJim, if I recall correctly!) I bought a new pulley (with TV damper) from Citroen to ensure it was all timed correctly, but I think having a solid pulley to use as a locking tool, and then putting the slipped one back on afterwards would have been fine (or indeed using my new one to time it, then putting they old one back on and keeping the new one somewhere safe to use again for the next belt change...). I should have another 20k miles of use left before my next belt change, I'll sort something out then!

---
Skull

Donor 2020
Posts: 687
Joined: 02 Aug 2013, 13:35
x 45
djadams so exactly the same issue except that I timed the engine on the original pulley, which seemed OK when testing by turning over manually by hand, as Jim said the valve / piston clearances must be very generous.

I hadn't driven the car at all, as I had no belt history, I couldn't really tell why there wasn't the power I was expecting, it went to a Citroen specialist and a Citroen dealer both of whom ran diagnostics without pinpointing my error.

The Activa is now in daily use as yours is, but I will hopefully reduce that when winter weather arrives.
---
djadams

Donor 2020
Posts: 68
Joined: 07 Oct 2012, 16:16
x 3
Awesome, good work chap (particularly impressed with your headlining repairs...). I share your concern over campaigning the Activa through winter, they're a bit rare now to be getting used and abused in all weathers. Four years ago I replaced mine as a daily driver, only to then sell the replacement when I was informed that three cars was too many for one member of the household! (It's not even like my wife has bought herself a second car to use the space, so was it really too many...?
)
So mine has been back to daily duties again for 18 months now. (The 2014 Focus ST estate really was a great car, but nothing like as interesting as the Activa...).
At least I have a set of winter tyres for the Activa on Mk1 C5 alloy rims (which I think suit Xantias pretty well) so the proper activa rims nolonger get subjected to salty roads...
---